Models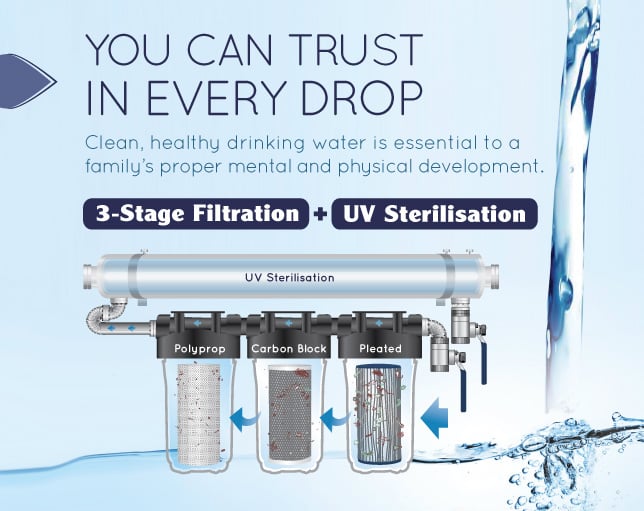 Filtermate builds a range of Whole House Water Filters to suit various applications and property sizes at their facility in Western Australia.  All filter units are fully assembled and pressure tested prior to being shipped, are pre-mounted on rigid pvc that won't warp or rot, and are encased in an attractive weather resistant aluminium case for simple outdoor or indoor installation. Our water filters all include stainless steel fittings and guages, NSF approved Housings and Watermark approved valves. Our units with UV sterilisation also include stainless steel reaction chambers, Philips Germicidal UV lamps and advanced electrial ballasts with alarm protection. Our commercial unit comes with additional safety technology with optional shut off valves and Aquatrip leak detection system included.
We supply a wide range of residential and commercial customers throughout the country and offer excellent after sales service.
Model

Citimate Residential

Farmmate
Residential
Ranchmate
Residential
Ranchmate +
Commercial
25mm inlet and outlet with valves
5 micron washable pleated sediment pre-filter to remove heavy sediment
Activated carbon block filter to remove
chemicals, toxins and odours
1 micron poly propylene filter to remove fine sediment (Citimate - 5 micron)
Gauges
2
3
3
3
UV steriliser (with audio & visual alarms)
to remove microorganisms, including bacteria, viruses, mould spores and algae
40W Philips UV Steriliser
75W Philips UV
Steriliser
75W Philips UV
Steriliser
Mounted and encased in aluminium box
Supported  treatable  flow rate
N/A
up to
50ltrs/m
up to
100ltrs/m
up to
100ltrs/m
Digital display giving a countdown of days remaining to UV lamp replacement
Solenoid water shut-off safety valve in the event of lamp failure and/or Aquatrip Leak Detection system
Optional
Citimate Non UV Residential System
Specifically designed (without UV) for town water supply, for users who wish to remove chlorine, some flouride, etc from their whole house water supply.
For untreated water, suited for smaller homes, holiday homes and people on solar power on rural water supply.
For untreated water, suited for all houses on rural water supply, who are dependent on rain water, surface water, river, lake or bore water.
This is a made to order system for commercial clients on untreated water who require additional safety features including automatic shutoff of water after failure of power or globe and/or Aquatrip Leak Detection device.