Whole House Water Filter Systems & Drinking Water Purifiers - Filtermate
For any maintenance queries, see our Maintenance or FAQ pages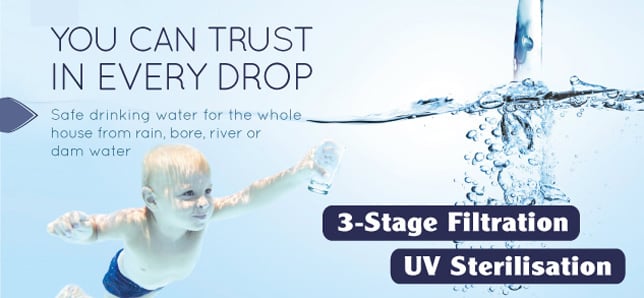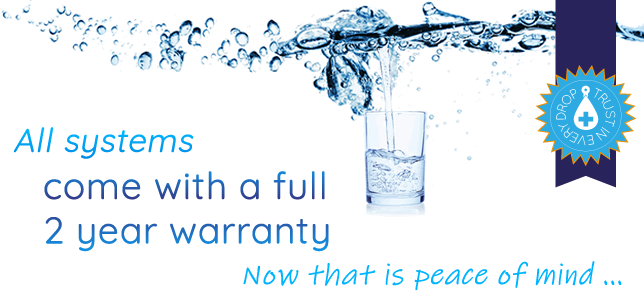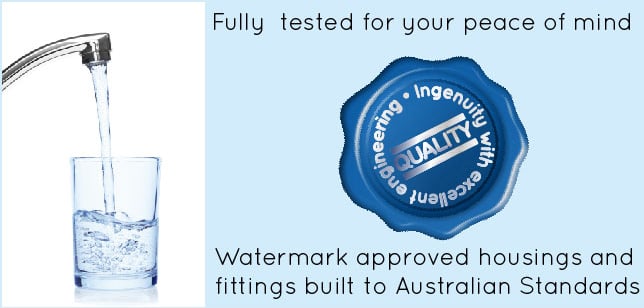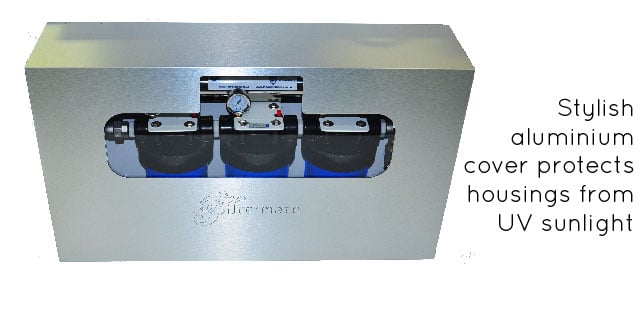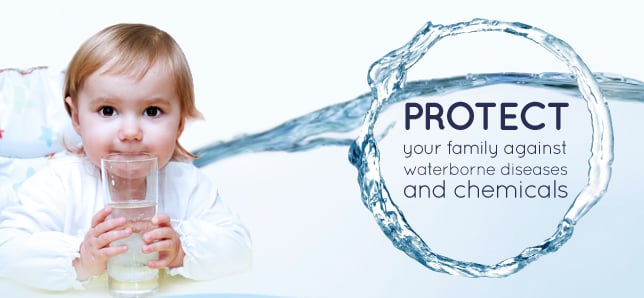 Safeguard your family with purified water from a Filtermate

Whole House

Water Filter System
Originally designed as a farm tank water filter system for rainwater, the robust design and quality components has helped Filtermate to become one of the best known and trusted water filters available. Provide clean, safe, purified drinking water for the whole house, from rain water, bore water, river, dam, lake water and mains water.
The Filtermate Citimate whole house system is designed for houses on town or mains water. Removing chlorine and other chemicals from all of your household water can have a life changing effect on your health and wellbeing as well as providing clean purified water throughout your whole house. The Filtermate Citimate Whole House Water Filter System gives you absolute peace of mind.
The Filtermate UV range of whole house systems are designed for untreated water and have the addition of a UV light. The 3-Stage filtration uses sediment filter cartridges to remove even the finest dirt and sediments from your water supply. It includes an activated carbon filter to remove toxins, smells and odours, including chlorine, pesticides, sprays, fertilizer run-off and car exhaust fumes and other impurities that settle on your roof. The Ultraviolet UV drinking water purifier then kills bacteria, cysts and microbes such as eColi and Giardia.
The only prebuilt, fully pressure tested, whole house water filter system that comes in an attractive weatherproof case, essential to protect the water filter housings from UV damage.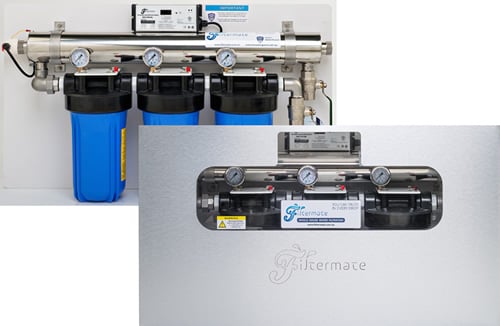 Thank you very much, I must say you provide superb service.

NSW

Purchased a Filtermate 'Farm mate' system over 4 years ago after a lot of research into different systems and manufacturers. Couldn't be happier with the system, we use rain and bore water and it comes out crystal clear and no off tastes. Have been helpful with enquiries and fast shipping when I need replacement filters or globes. Great product and company.

Victoria

Thank you for very prompt delivery. Unit arrived in perfect nick.

NSW

Dealing with you is a pleasure... Your personal idea and application of customer service is above and beyond... Thank you

Queensland

Thank you for your help, finally got it sorted with your kind and persistent support. I sure like buying from you - great support and I appreciate the confirmation email.

NSW

Thank you for the replacement seals. We managed to fix the leak on our old Waterguard filter following your instructions. Thank you for the honest and helpful advice .

Western Australia

Your water filter system arrived as promised and has been installed .

NSW

Thanks for your advice re the fault on our Waterguard Gold Water Filter. It was exactly as you said and easily fixed! .

NSW

Just thought I would let you know that the council just tested our water and it passed with flying colours - not a bug survived your filter! .

Western Australia

The spare parts arrived via Express Post this morning - many thanks for all you help. .

Norther Territory

Please can you send us a filter set every 4 months so we don't forget to change them. I am very happy with the Ranchmate .

Victoria

We just changed the filters on our Citimate in Perth. What a difference it has made to our water, can't believe we ever considered drinking it before the water filter was installed .

Western Australia

System received and installed within the hour - water tastes great.

Far North Queensland

UV lamp received yesterday, system working again. Thanks for the prompt service. Wish I'd known there was a supplier in Australia when I made the original purchase.

Western Australia

Just letting you know the FilterMate RanchMate has been installed, and our water is now crystal-clear and tastes amazingly clean and fresh. Trouble-free installation and worked fine from the start.

Western Australia

The spare parts for our Gold system arrived yesterday by express post and have been installed - the unit is working perfect. Thank you for your excellent customer service.

New South Wales

Thanks for the advice and especially thanks for the truth!

Western Australia

Wow - the system has been installed and just worked. It looks great.

Queensland

Thank you for your prompt attention to this issue, it is very much appreciated. I always feel that it is very easy to provide good customer service when everything is going right, but the real test is when problems arise as in this case, and you and your crew cannot be faulted in your response thereto.

New South Wales

Thanks to you for excellent and prompt service.

Western Australia
Filtermate protects:
 Your Health | Your Appliances | Your Plumbing
Not only does the use of a Filtermate whole house filter remove chlorine and improve the taste of your water, it also removes other toxins and chemicals and potentially extends the lifespan of your appliances including water dispensers, coffee machines, dishwashers and hot water systems.
Some water supplies in Australia, particularly those serviced by long distance water pipelines, also contain chloramines. Chloramines are toxic to fish, reptiles and amphibians and still have unidentified chemical constituents. A Filtermate water filter system removes chloramines, which have also been identified to corrode rubber gaskets and even stainless steel.
Preassembled and Tested | Quality you can Trust
Our domestic water filters are preassembled at our factory in Perth, ensuring that when you receive the unit, it is ready to install. All joints are bonded and tested for leaks before leaving our factory. 
Filtermate whole house water filter systems are manufactured from quality components and subject to rigorous testing and quality control.  For the plumbing components, we use quality stainless steel parts and fittings are Watermark and/or NSF certified ensuring complete peace of mind. 
In the UV systems, the electronic components include the latest in electronic ballast technology and Philips UV filter globes.  Ballasts are UL certified for electrical safety and electromagnetic emissions.
Water Purifiers Proudly Built in Western Australia,
and shipped throughout Australia
A Filtermate drinking water purifier is built to last and provide your whole house with clean safe drinking water.